As you may have read in my previous posts, I've recently been to Slovenia to photograph bears from hides. Normally I would fly to Ljubljana, rent a car and drive to Triglav National Park, spend some days in Markovec for the photography and fly back home from Ljubljana. Less than a week before I would fly to Slovenia, I read in a free newspaper that Adria Airways went bankrupt and that I could not fly with them anymore. Up to this point, I haven't heard from Adria Airways. If I hadn't read the sad news in the newspaper, I wouldn't have known but last minute that my flights got cancelled.
After checking the options, it was driving all the way or stay at home. I decided to drive and leave on Sunday instead of Monday. I drove from home to Frasdorf and arrived later than expected due to horrible weather (rain, rain, more rain). Next day I still rained quite hard in Germany, but from Austria onwards it became dry and the sun even came out. After 3 days and nights in Triglav National Park I drove all the way south to Markovec for the main reason of my trip: photograph bears.
As I was looking for some nice opportunities to photograph wildlife, I came across Slovenianbears and decided to book their autumn bear photography tour. The hides are really nice. Also the room and the food were great. In the morning you have some spare time to visit places in the neighbourhood. I had a hide session in 4 different locations, which was really nice as the setting was different every time. I was in the hide each afternoon, from 1.30 – 2.30 pm to 5 – 6.15 pm. 2 times I had just finished setting up when the bears were already on the scene. The last day I had to wait almost till the end of the hide session. Miha told me I was lucky to see 14 bears in total and 3 to 4 bears every hide session. So I was really happy that the bears came out each time and that I could take some awesome pictures.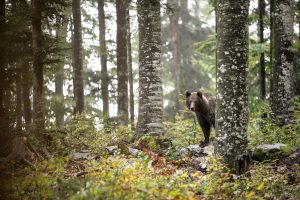 But something else really caught my attention: how aware the bears were of their environment. And how such strong animals keep an eye on the environment and listen to all sounds. Maybe you'd expect that these bears would walk through the forest like kings and queens. Nope, they seemed so humble to me. Bears are absolutely gorgeous animals and even if they are one of the biggest animals in the forest they just do their thing, leaving almost no marks that they were there. You don't even hear them walk around. The contrast with humans was so clear. If humans walk through the forest, you will hear them for sure, you'll hear every step (creaking sounds). And they walk through the forest as if it's their forest, as if they are the kings and queens and own the place.
Thank you bears for showing me how gorgeous, gracious and humble you are. You made this trip all worth it. Now I need to find a way to convince humans that they are just visitors and should leave no marks whatsoever and put away their horrible arrogance.
Want to photograph some of these awesome bears? Check out Slovenianbears.