I don't know about you, but to me lyrics are an important aspect of a great song. What I like is that you can relate to lyrics, it doesn't matter what the band is referring to, you just can make it something personal. One band I really love, in a huge part because of the awesome lyrics is the British band Hell Is For Heroes (side note: next February they're doing a UK tour to celebrate the 15th anniversary of their debut album The Neon Handshake; I'll be at the Portmouth and both London shows! Go check them out, who knows if and when they'll be playing again after that!).
I remember when I first saw these guys in Brussels. They were supporting Papa Roach in the Ancienne Belgique if I remember well. I was running a little late due to late classes that day, but I immediately fell in love with this band! Only thing I regret is that I have seen them only a couple of times live after that show, most of the other shows were even in London.
For this HIFH lyrics project, I've taken some phrases from their lyrics and made them something personal with one or more photographs. I got this idea long ago when I took photography classes and had to take pics inspired on some form of art as an assignment. I came up with the following pics: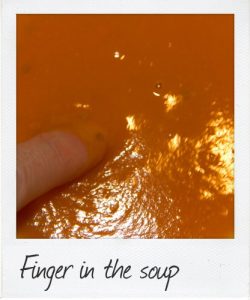 Since that moment I have wanted to do more with this, so below you'll find some pictures, inspired by the HIFH lyrics and taken to a personal level. Hope you like it!
---
Often I feel like I need to get away from everything. Then I like to get into nature, with as few people as possible. Here in Belgium it is hard to find empty roads these days, but during roadtrips in the US and Canada for instance, it was really nice to drive there and to refill the batteries and spend time in nature and watching lovely animals. One nice memory I have from my Canada roadtrip was when a black bear wanted to cross the high road, but seemed to be waiting for me. I stopped and let the bear cross the road, he or she did cross the road and turned his or her head as to say 'thank you' and then disappeared in the bushes. Live is so busy, that I love to spend time in quietness. So let the empty high roads call once more!
---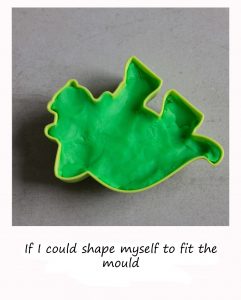 I really love this phrase as I couldn't agree more. I've never felt the need to fit in or do what everyone else does. I am so happy I have always done what I really felt that I should do, and up to now I have no regrets whatsoever for following my heart. I really don't function when I have to comply with all kinds of crazy rules, most often "imposed" by our "society", though I have no clue what society actually means. This is such a ridiculous notion. You must do this and that, as it's always been like that or it's tradition. Hell no, think for yourself, be yourself and do what you like, without complying with what others say you should do!
---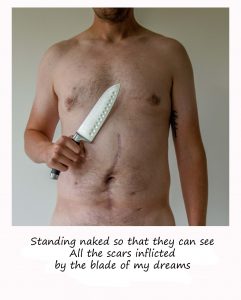 Sometimes your dreams come with a lot of hard work, blood, sweat and tears. I find it hard that people always look at the results and seem to forget where you started and what you have done to get where you are. When you get to a certain level of success in chasing your dream, they will become jealous or try to make it look like everyone can do it. What I mean is: never, and I really mean never, should you listen to other people when you want to live your dream. Just go for it, whatever effort and how many scars it takes, do what you feel you must do. Work hard on living your dream, whatever it is. If you don't go for it, you'll regret it forever. It's ok to fail, it's not ok not to try out of fear or because others tell you you can't do it. Believe in yourself!
You can notice the HIFH tattoo, for me HIFH also means 'no pain no gain'.
---
Sometimes it's hard to see people walk out of your life for whatever reason. However, sometimes that's just how it goes. Though you might miss someone very much, I believe someone you held dear will never really disappear as you will always remember some things. If someone passes away or if someone walks out of your life for a good reason, you can only accept it and hold on to precious memories. We forget to thank people for making our lives better for a certain period of our lives and when they are gone, we just regret we haven't said thank you. So, just thank people more often, tell them you love them, that they are beautiful and awesome!
In the pic you see a woman and a man, they might be my grandparents who passed away a few years ago. I am forever thankful for all the love they gave me and for all what they have done for me. Though I still miss them, I'm not sad, I have all these great memories to hold on to.
---
I've seen way too many doctors and surgeons in my life, yet juvenile polyposis syndrome got me to the operation table 5 times already. 2x times to remove part of my small intestine, 1 time to remove most of my large intestine and 2x to remove a really large polyp in my stomach. For me this is becoming a 'procedure' as well, as more surgeries may wait for me in the future. So far I am really glad the doctors and surgeons have done such a great job, so that I can live my live the way I want, however every examination of my stomach and intestines makes you fear for what's to come: what will they see this time? Will there be more polyps, and if so, how big will they be? Will I need another surgery? Will the surgeon be able to save my stomach? I try not to think much about it and do whatever I want (like training hard for 100m and 200m), but this disease is always hiding in the dark of your mind.
What makes it even harder sometimes is how people react. I seem to be a normal guy and I don't want pitty, but sometimes people are such douchebags. I know, you don't see this disease, but it's really there. I am so glad I can do what I want (like sprinting), yet I have to take care of myself and can't sometimes do as much as I'd like (and what the outside world sometimes criticizes on). Every now and then my iron levels drop due to these polyps, so every now and then I need an iron. Last track season I started training in March after 5 years off track and after my last stomach surgery (in November 2017) and I got a silver medal at the provincial championships for master both for 100m and 200m, and ran two club records that day. So happy I can run!
---
I've never really felt the need to belong or to fit in and for me this sentence from the song 'Retreat' is really something that applies to who I am. I'm very open-minded, but if you're not walking the talk or when you show no respect, I am already making my own way to the exit. No need to show me the door, most probably I already left your dream world long before you noticed I didn't listen anymore to bullshit. I don't want to be pigeon-holed, as I am an individual and I can think for myself and some metaphors may apply to me, but most likely it is not accurate.
---
More coming!