It's been a while since I posted some new stuff. The epidemic is still going on, so it's way too quiet in concert venues. Hope to shoot a few local shows in February though! I took some time off and spent it with my family and getting back into sports.
I'm working on something to celebrate the 5th anniversary of Wolf Sets Fire! That's right! 5 years in which a lot has happened: plenty of concerts, but also the birth of our son and daughter, miss rona as well.
Looking back to 2021, I had a great summer with plenty of awesome Belgian artists I could photograph at Leuven Air! It was so great to shoot artists like Brihang, Het Zesde Metaal, Hooverphonic, Portland, Float Fall, dEUS, Tourist Le MC, … There was also the smaller version of Suikerrock in Tienen with some more great artists like Levellers, Bart Peeters, Janez Dedt, … And I finally got to photograph Black Mirrors at Rockelingen! It was definitely a better year with more music than 2020! Check my blog to get to the pictures!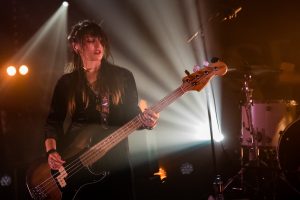 For 2022 I hope to shoot a lot of concerts, even with COVID-19 still around. I hope to shoot Rock am Ring and Jera On Air and artists like Sting, Pearl Jam, Foo Fighters, Alanis Morissette, Slipknot, Foals, Rammstein, Counting Crows, Bryan Adams, to just name a few.
And last but not least I hope my photography trip to the Great Bear Rainforest will take place after it got cancelled 2 times!
Have a great year!